The underground storage of natural gas (UGS) withdrawn from the transportation network to later be reintroduced according to the demands of the market is the most efficient and cost-effective technique for storing natural gas on a large scale, and for a number of reasons, it plays a fundamental role in managing the gas resource.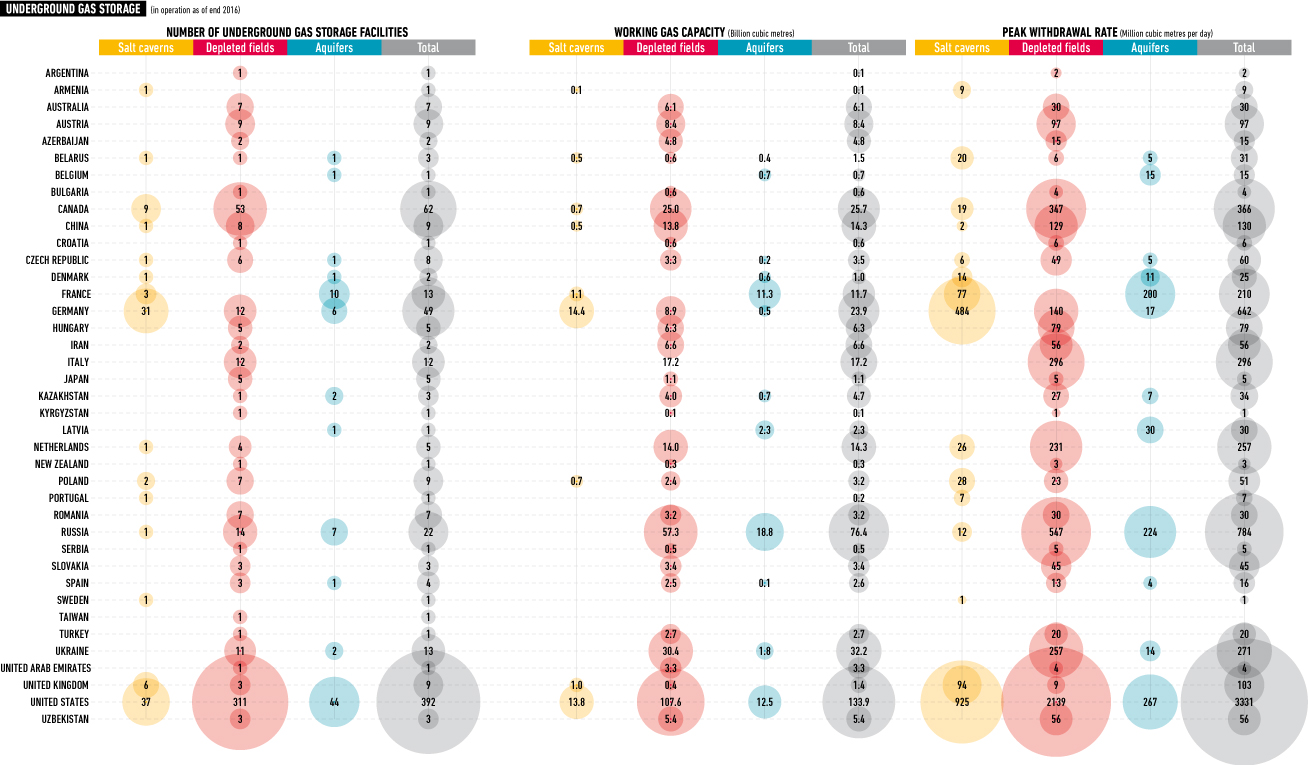 First and foremost, the supply chain of natural gas – from production to transport – is a time-consuming process and the gas is not always immediately necessary at its intended destinations, also because consumption is strongly tied to the season (it is higher in the winter than in the summer, as it is used especially for heating): underground storage facilities are therefore essential for conserving excess gas during the summer that will later be used in the winter months.
Additionally, natural gas storage allows for the availability of "strategic" reserves that can be used in cases of exceptional situations (anomalies of intensely cold temperatures, technical incidents or international crises that block supplies). Finally, natural gas can be stored for an indefinite period of time. In short, storage allows for us to compensate the differences between supply and demand and thus guarantee continuous supply.
Natural gas can be stored underground by injection into various types of geological structures: in deep aquifers (situated several hundred metres below ground), in salt caverns or mines that are no longer used and in depleted gas reservoirs. Finally, natural gas can be stored also above ground, in depots built at LNG receiving terminals, which can compensate in part for the potential lack of underground storage facilities.

EVOLUTION OF GLOBAL UGS WORKING GAS CAPACITY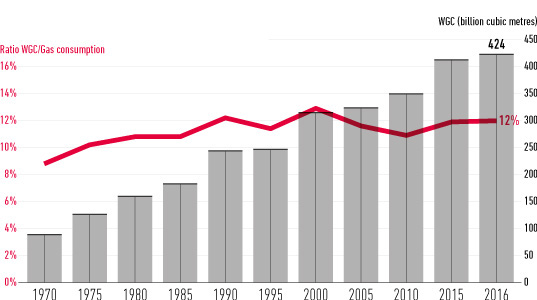 UNDERGROUND GAS STORAGE BY REGION
(In operation - 2021)

UNDERGROUND GAS STORAGE BY TYPE
(In operation - 2021)

CEDIHAZ, Natural Gas in the World - 2017 Edition;
IGU (International Gas Union), Underground Gas Storage Database (elaboration) [Last accessed: 05 May 2023];